Keep your African Cape Reed/Grass Tiles or your Bali Grass looking great and lasting up to 4 year longer!
ThatchPro is an Australian product, especially formulated to protect the Bali Grass or African Cape Reed/Grass Tiles from the harsh Australia UV rays.
       ✅ Completely protects the Reeds for 3.5 – 4 years.
       ✅ Binds the Reeds/Grass together to stop pieces eventually falling off

       ✅ Revitalises the Colour 
       ✅ Saves sweeping up loose bits of old weathered Grass/Reed,
       ✅ Quick drying, long lasting.
       ✅ Easy to apply, spray or use a large paint brush.
       ✅ Water Based, easy to clean up.
       ✅ If applied every 3.5 – 4 years the thatch will last indefinitely!!!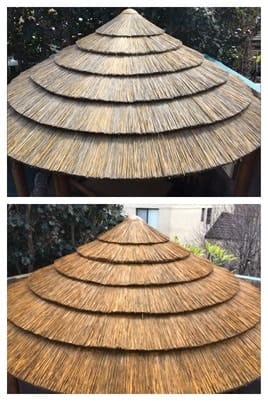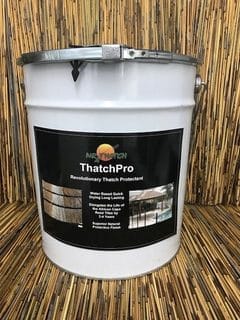 Available in 4 litre and 10 litre Tins
Buy for D.I.Y.   
Or Professionally supplied & applied.
By Mr Thatch
Call for a free quotation now!
Mr Thatch prides itself in the ability to Repair Alang Alang Bali Thatch Roofing.
With over 22 years in the thatching industry, Mr Thatch has extensive experience with repairing Bali grass huts.
Whether the alang alang thatch roofing on your Bali hut has been damaged by intense storm conditions or has simply started to wear away after years of normal weathering, Mr Thatch can help you out.
We are proud to be one of the few companies that offers a thatching repair service, and our years of experience makes us experts in this field.
If the thatched roofing of your Bali hut needs repair, contact us now to make an appointment for a Mr Thatch team member to come out and evaluate your hut.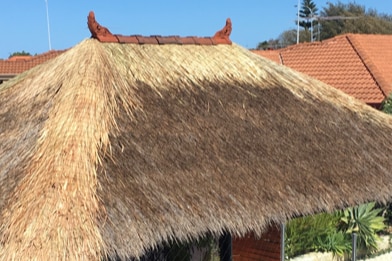 Other Products & Services:
All products Professionally Installed, or Buy for D.I.Y.