Thatching Repair Service by Mr Thatch
Mr Thatch prides itself in the ability to Repair Bali Grass Thatched Roofing.
Having been in the Thatching Industry for over 22 years Mr Thatch has repaired storm damaged Bali Huts through Insurance claims and also just elongated the lives of many Bali Huts due to normal weathering.
Mr Thatch are one of the few companies that offers this service and believe they are the experts in this field.
Call now  and make an apointment for Mr Thatch to come and evaluate your Bali Hut.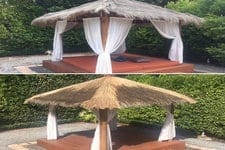 All products professionally installed or applied, or buy for DIY.