Top-Quality DIY Bali Hut Roofing Kits & Installation in Perth
Want to feel like you're on a tropical vacation without having to step out of your own property? Installing Bali hut roofs is a great statement piece for your outdoor space. 
Our architecturally sophisticated thatched roof is built using the finest material, which allows heat dissipation, making you feel comfortable and relaxed. Plus, we have faith in our craftsmanship to deliver on your expectations.
A wide variety of Bali hut roofing options are available for homes and commercial spaces in Perth.
Supply and install (or just supply) the best quality Bali Alang Alang Thatching Grass available, onto most existing structures, or can just supply to the D.I.Y enthusiast or to the Trade for D.I.Y Installation.
Let us know of your Bali hut roofing needs to match your lifestyle and budget.
Give full instructions and even give hands on  training at their warehouse in Osborne Park.
Mr Thatch has been importing the Bali Alang Alang Thatching Grass for 25+ years.
Only the finest, cleanest, fumigated grass is supplied or supplied and installed.
Netting is also available, imperitive for the Perth high winds.  Lasts years longer.
Benefits Of Using Mr Thatch's A Grade Quality Grass For Roofing Services in Perth
Mr Thatch imports the very best fumigated grass available out of Indonesia.
Fire retardant Bali Thatching grass is now available.
The best quality string, cream colour for an uncluttered superior finish.
100% Waterproof when installed correctly.
Up to 10 degrees cooler underneath than most structures.
Mr Thatch has had the same supplier for 20 years.
Full instructions given for a successful, professional D.I.Y Installation.
Best pricing, sales and after sales support available.
In case you have questions, speak to our experts at (08) 9444 0082– we're ready to help you out.
Browse our online gallery for the widest range of Bali hut roofing installation services in Perth.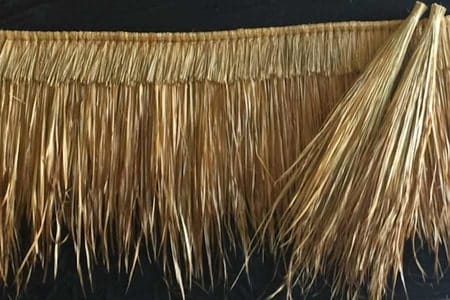 Bali  Grass 2.8m Lengths and Hips
Beautiful Superior Uncluttered Interior
Recent Jobs that have used  Quality Alang Alang Bali Thatching Grass
Hi Jacqui. Thanks for the great job on the thatching.
Hi Jacqui. The finished thatch on our gazebo looks just lovely, I am thrilled with it. Many thanks to Gary for such a good job.
Just a quick note to thank you for the great service I received when I bought some thatched roofing off you for my Gazebo.
It's refreshing to know there are still businesses around that put service before profit thanks again
The gazebo has come up great, thanks.
Mr Thatch prides itself in the ability to Repair Alang Alang Bali Thatch Roofing.
With over 22 years in the thatching industry, Mr Thatch has extensive experience with repairing Bali grass huts.
Whether the alang alang thatch roofing on your Bali hut has been damaged by intense storm conditions or has simply started to wear away after years of normal weathering, Mr Thatch can help you out.
We are proud to be one of the few companies that offers a thatching repair service, and our years of experience makes us experts in this field.
If the thatched roofing of your Bali hut needs repair, contact us now to make an appointment for a Mr Thatch team member to come out and evaluate your hut.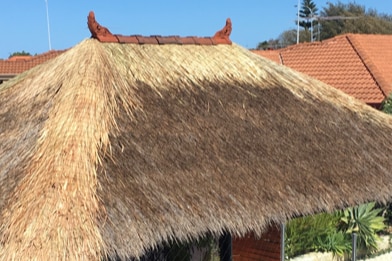 Other Products & Services:
All products Professionally Installed, or Buy for D.I.Y.