Superior-Quality DIY
Bali Hut
Kits & Installation Services in
Perth
Add some intrigue to your backyard with our broad range of premium-quality, aesthetically pleasing Bali hut kits. 
These Bali huts are the replica of the tropical lifestyle we love. These durable and waterproof huts are perfect to enjoy scenic views of rain or snowfall with your soulmate. 
Also, your kids will have a miniature house to play all day during long summer vacation. We also provide complete Bali hut installation services in Perth.
Explore our extensive range of easy-to-follow instruction Bali Hut kits in Perth
What Makes These Bali Huts So Special?
Our carefully crafted Bali huts double as a romantic farmhouse. This shed oozes for a fantastic setting and has a rustic feel. It's truly hard not to fall in love with this hut inspired by the lush oasis.
Our Bali huts are
100% waterproof, guaranteed.

UV proof netting to increase longevity and keep grass safe from the Perth winds.

Up to 10 degrees cooler than others on a hot day.

Cream string lasts longer and provides a superior, uncluttered interior finish.

25 year + guarantee on the timber structures and nearly 10 years life span on the Bali Grass
Besides, this shed would make the perfect, quaint addition to an outdoor garden space. So far, the Bali huts have impressed Builders, insurance companies, Perth Zoo, Adventure World, Melbourne Zoo, Bars, Nightclubs, a Maldives Resort and thousands of homeowners.
Read what customers have to say for Bali huts.
Create a Tropical Paradise at Home
If you're not a DIY freak, then present our specialists to set up the shed in your backyard leaving you with more time for your kids. Once you've made the purchase and opted for our installation service, our experts will arrive on a date scheduled by you and assemble the Bali hut in your desired location in Perth.
We Design, Supply & Install Bali Huts – Seek A Quote Today!
Customers are out top priority. We are committed to making the entire process hassle-free, from the point of purchase to installation service and even after that. 
For any query or more information, feel free to talk to our experts at (08) 9444 0082
Find the best deals and discounts on Bali Huts in Perth. 
Happy Shopping!
Mr Thatch prides itself in the ability to Repair Alang Alang Bali Thatch Roofing.
With over 22 years in the thatching industry, Mr Thatch has extensive experience with repairing Bali grass huts.
Whether the alang alang thatch roofing on your Bali hut has been damaged by intense storm conditions or has simply started to wear away after years of normal weathering, Mr Thatch can help you out.
We are proud to be one of the few companies that offers a thatching repair service, and our years of experience makes us experts in this field.
If the thatched roofing of your Bali hut needs repair, contact us now to make an appointment for a Mr Thatch team member to come out and evaluate your hut.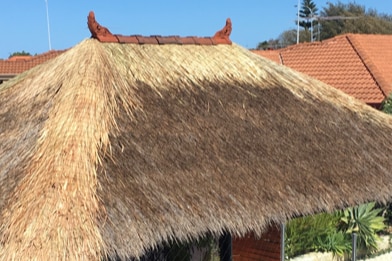 Other Products & Services:
All products Professionally Installed, or Buy for D.I.Y.