Buy Exotic DIY
African Thatch Hut
Kits & Installation Service
We bring to you a chic range of thatched African-style huts to transform your dull backyard into a fabulous space for relaxing. Out sheds are beautifully handcrafted to maximize your covered space outside while enhancing the aesthetics.
These huts require a low level of maintenance. These huts are comfortable to enjoy the tribal lifestyle of Africa in your backyard.
Contact us at (08) 9444 0082 if you want the African Thatch hut to be installed by our panel of experts. Our friendly staff will arrive on time and set up the shed at your place. 
Premium-Range African Thatch Huts
Our African thatch huts are a wonderful way to create an entertaining space for your family and friends in Perth. 
Constructed from the finest-quality sourced materials, the ambient setting created with our thatched huts is limited only by your imagination. 
Our stylish thatched African huts are
Tailored to your needs.

25 year + on the timber structures and approximately 10-year life span on the African Cape Reed Tiles

98% waterproof

Up to 10 degrees cooler than others on a hot day.
The native look of these African huts conveys the amount of effort that our designers have put in. 
Professional Installation in Perth
We have 20+ years of experience in African Gazebo Construction and  African Thatching, in Perth with a qualified team of tradesmen.
Our easy-to-install African thatch huts help in creating a soothing setting where you can enjoy a bottle of wine with your lady love while witnessing the majestic views of the sun setting over the horizon.
Browse our fascinating collection of superior-quality African thatch huts at the most competitive prices in Perth. 
Get Amazing Deals & Discounts Today!
Mr Thatch prides itself in the ability to Repair Alang Alang Bali Thatch Roofing.
With over 22 years in the thatching industry, Mr Thatch has extensive experience with repairing Bali grass huts.
Whether the alang alang thatch roofing on your Bali hut has been damaged by intense storm conditions or has simply started to wear away after years of normal weathering, Mr Thatch can help you out.
We are proud to be one of the few companies that offers a thatching repair service, and our years of experience makes us experts in this field.
If the thatched roofing of your Bali hut needs repair, contact us now to make an appointment for a Mr Thatch team member to come out and evaluate your hut.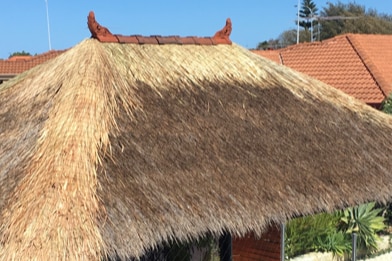 Other Products & Services:
All products Professionally Installed, or Buy for D.I.Y.