Bali Huts Installed by Mr Thatch
Visit your home/site, discuss your Bali Hut requirements and give a comprehensive obligation free  quotation.
Keep pricing at an affordable level, without compromising on quality.
Handle Council Planning or Building  Applications at no additional cost, other than the Application fees.
Keep to the arranged installation dates and won't let you down.
Supply and construct your Bali Hut using Timber of the highest quality, some guaranteed for 25 years, treated for white ants, wood rot and general timber decay.
Supply and install the best Bali Alang Alang Grass available from Indonesia, beautifully clean and fumigated, same supplier for 20 years.
Pitch the roofs at 40 degrees, for rain run off, stunning interior, steep Pitch for longevity.
Listen to you and make your dream a reality.
Benefits of having a Bali Hut Installed by Mr Thatch:
25+ years experience in Bali Hut Construction and  Bali Thatching, in Perth. We are here to stay!
Qualified tradesmen who take a great pride in their work.
Mr Thatch is trusted by thousands of home owners, builders, insurance companies, The Perth Zoo,  Adventure World, Melbourne Zoo, Bars, Nightclubs, and even a Maldives Resort.
25 year + on the timber structures and approximately 10 year life span on the Bali Grass.
Our Bali Huts are 100% waterproof,  guaranteed.

40 degree roof pitch for longevity and a high stunningly beautiful interior.

Netting on structures increase longevity and keep Bali Grass safe from the Perth winds.

The Bali Huts can be up to 10 degrees cooler than others on a hot day.

Cream string, lasts longer and provides a superior uncluttered interior finish.

From beginning to end Mr Thatch will make the whole experience easy and stress free.

Only pay a deposit initially and the majority after the job is done and you're 100% satisfied.
Satisfaction always guaranteed – The customers are  top priority at Mr Thatch.
Have a look at our Testimonials and see for yourselves, they speak volumes.
Take the safe option, buy local and let Mr Thatch create your very own little piece of Bali, best quality, best price, stress free.  
Peace of mind is part of the Mr Thatch experience.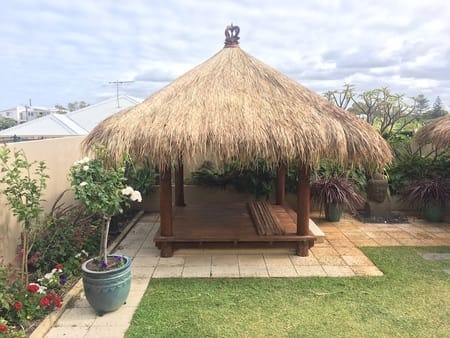 Add a touch of Bali & bring your holiday, home!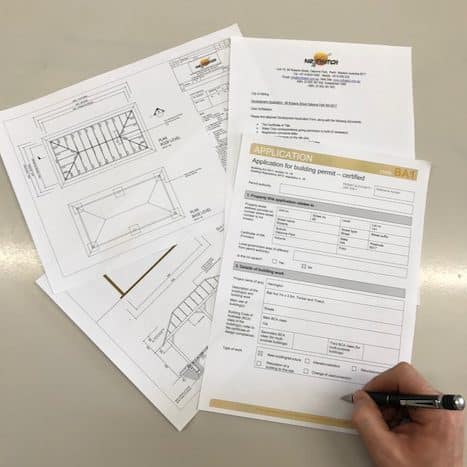 Professionally drawn Plans. Council Applications handled by Mr Thatch at no additional cost, only the Council fee.
For the Best Products, Prices, Service, After Sales Service and Peace of Mind call Mr Thatch now.
Recent Bali Huts Installed By Mr Thatch
Good Morning Jacqui, Love, love, love my Bali Hut, it's divine, looks like it has been there forever, amazing!!!!  The guys did a wonderful job, they worked so hard Jacqui and they were the sweetest loveliest guys!
"Hi Guys, Love our Bali hut and fence :)"
Hi, Just wanted to say thanks for the great job the lads did on my Bali Hut yesterday, Great work, very efficient and professional. Cheers
"Awww you have made my day, thank you, thank you! Hey it was easy singing Mr Thatch's praises, my Bali Hut is absolutely beautiful! It's been truly delightful dealing with you and your team 🙂
Thank you for deducting those amounts, I shall arrange payment today.
I would like to say thanks to Jacqui and the Mr Thatch team. My Bali Hut looks fantastic and service was amazing. My own piece of Bali in my own back yard
We absolutely love our new Bali hut, it really is stunning and finishes off the garden perfectly, the furniture looks amazing on there.  Alan did such a brilliant job of the decking too! I can't wait for things to settle down s but so we can get out there and enjoy it! I can't wait to spend loads of time out there and get friends round so I can show it off!!!
Mr Thatch prides itself in the ability to Repair Alang Alang Bali Thatch Roofing.
With over 22 years in the thatching industry, Mr Thatch has extensive experience with repairing Bali grass huts.
Whether the alang alang thatch roofing on your Bali hut has been damaged by intense storm conditions or has simply started to wear away after years of normal weathering, Mr Thatch can help you out.
We are proud to be one of the few companies that offers a thatching repair service, and our years of experience makes us experts in this field.
If the thatched roofing of your Bali hut needs repair, contact us now to make an appointment for a Mr Thatch team member to come out and evaluate your hut.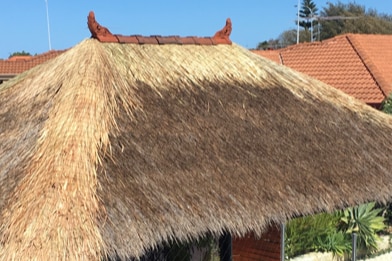 Other Products & Services:
All products Professionally Installed, or Buy for D.I.Y.